Published on 22.10.2021 10:33
The Euro snapped a 6-day winning streak against the US dollar in yesterday's trading session on the back of strong data from the US retreated market expectations that the US Federal Reserve will begin reducing their stimulus program before the end of the year as the US economic situation improves.
The latest initial jobs claims figure from the US hit the market yesterday at 290k which beat analysts' expectations for a figure of 300k and was also better than last month's reading of 296k. This news is of vital importance to the Fed because if there is one thing that is holding them back from tapering, it is the Employment market, so any improvement is only going to heighten expectations of tapering.
The real estate market in America also seems to be gathering pace as witnessed by the release of the existing home sales figure, which came in at 6.29 million against market predictions for a figure of 6.09 million and is just another sector of the US economy rebounding after the worst of the Covid 19 pandemic.
Today's economic calendar should prove to be a market mover for the EUR/USD currency pair starting off with the release of Markit Manufacturing and Markit services PMI figures from Germany and the Eurozone as a whole during the European session.
This will be followed up by the same news from the US (Markit Manufacturing and Markit services PMI figures) and should create dome volatility for market participants as the trading week nears an end.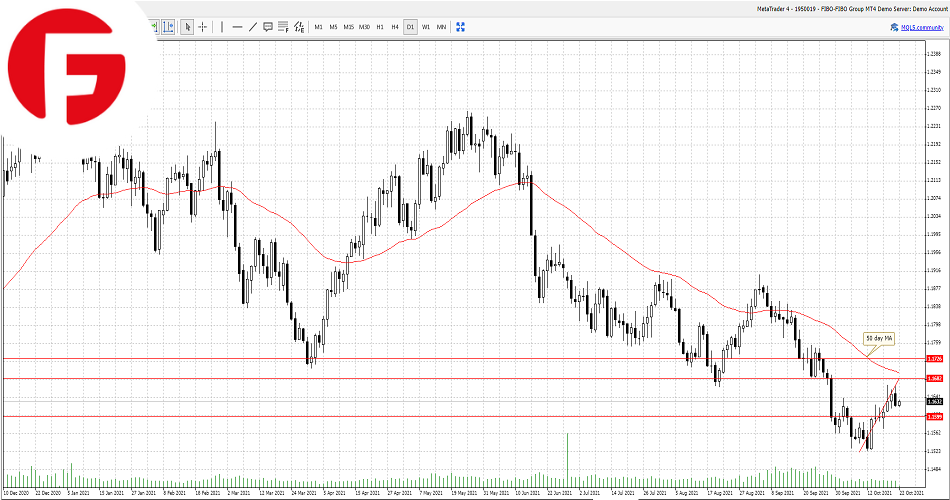 As mentioned in yesterday's article, the upward trend line was likely to cause stiff resistance for the EUR/USD currency pair and we can see the pair bounced off this mark heavily to end the day in the red by around 26 points.
This seems to have rattled traders during today's Asian trading session and the pair has remained within a tight trading range of 6 points as the market awaits the opening of the European trading session.
Today's movements will be all about the PMI market and manufacturing figures from both sides of the Atlantic and unless there are some major surprises to the upside on the news during the European session or to the downside during the American session it is hard to see the Euro travelling much higher as the week comes to a close.
If the EUR/USD currency pair manages to break the first roadblock which is the upper trend line it will face even more difficulties trying to crack the next resistance levels at $1.1682 and the 50 day MA which sits just above this.