Published on 22.03.2022 15:18
The Euro is under further pressure against the US dollar in today's European trading session after comments yesterday from US Federal reserve president Jerome Powell regarding the size and timing of further interest rate hikes expected to be delivered this year.
Referring to the current inflation figures in the US, which are currently sitting at a 40 year high, Mr Powell said the US central bank would do whatever it takes to bring the numbers down which are beginning to eat away at the fragile economic recovery currently underway after the worst of the covid 19 pandemic.
"If we conclude that it is appropriate to move more aggressively by raising the federal funds rate by more than 25 basis points at a meeting or meetings, we will do so," Powell said.
Powell's remarks lead to speculation the US policy makers could deliver benchmark interest rate hikes of 50 basis points instead of 25 next month to rein in inflation and help drive consumer prices down.
A 50-point rate hike from the Fed next month is likely to put immense pressure on the Euro as the yield difference with the greenback will widen which will leave investors pilling into the dollar for higher returns.
Looking ahead today, the major focus will be and economic speech by European Central Bank president Christine Lagarde where investors will be listening for any signs of a rate hike from the ECB as the year unfolds.
There will also be a speech during the American session by Fed board member John C. Williams who may reiterate that the Fed will need to move more aggressively to contain consumer prices which are spiraling out of control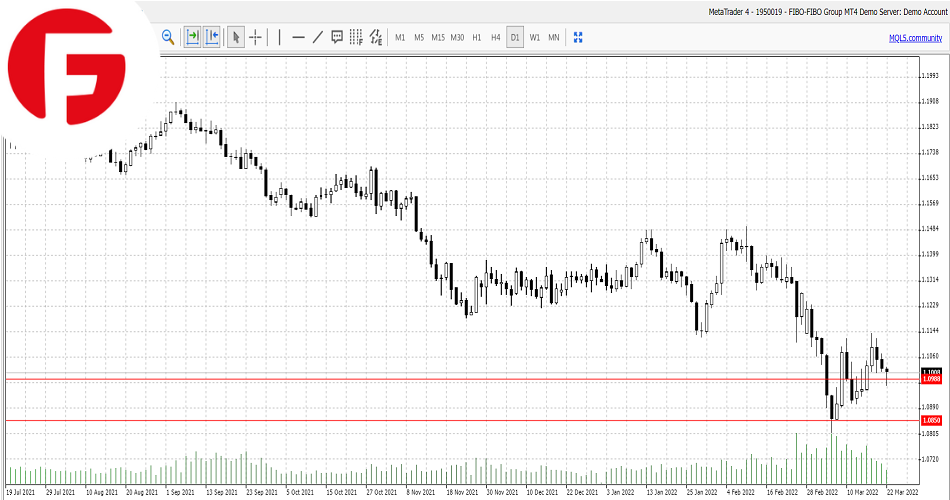 As we can see on the chart, the EUR/USD currency pair has found support at the $1.0988 level and unless there is a major escalation in the Ukraine Russia conflict today this mark will probably remain well supported although there may be some risk if the calls grow louder for a 50-basis point rate hike from the Fed next month.