Published on 07.12.2021 13:44
The Euro has failed to capitalize on the release of positive economic news released earlier during the European session as fears of rising covid cases continue to dog the financial markets.
The latest quarterly GDP figures from the Eurozone hit the market at 2.2% which were in line with predictions while the monthly figure came in at a healthy 3.9% against analysts expectations for a figure of 3.7%
The Zew survey of economic sediment from Germany also surprised to the upside coming in at 29.9 last month against market forecasts for a figure of 25.1 which may be attributed to the excitement surrounding the installation of a new government and departure of the Chancellor Angela Merkel who has been in power for 16 years.
Despite the solid economic news, the Euro has actually fallen and with no further important news due out today from either Europe or the US, the focus will be on the new variant of Covid 19, namely the Omicron virus and if it is continuing to spread throughout Europe and should the situation stabilize, the Euro is likely to trade sideways for the remainder of the day.
Looking ahead the market will pay attention to ECB president Christine Lagarde, Vice President Luis de Guindos and Executive Board member Isabel Schnabel who on Wednesday and Friday will deliver speeches about what the ECB will decide to do in December regarding the current stimulus program and the big talking point is will there be any mention of a reduction.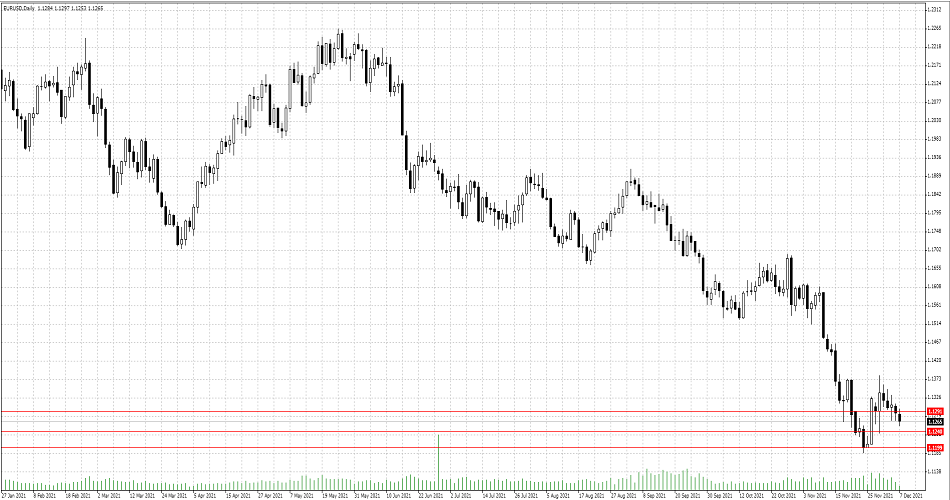 As we can see on the chart, the EUR/USD currency pair has broken down through the $1.1291 support level after as mentioned earlier, failing to take advantage of the release of positive data.
For now, there is strong support at the $1.1240 mark and it is hard to see this being broken in todays trading session but it may be tested later in the week on the back of key US data and Rhetoric from the ECB board members.