Published on 28.12.2021 13:15
The Euro continued its sideways consolidative price move on Tuesday against the US dollar and remains confined in a narrow trading band, above the 1.1300 mark as we enter today's European trading session and with a quiet economic calendar ahead, it doesn't look like much will change unless there is a spike in Coronavirus cases throughout the Eurozone.
Yesterday the French Prime Minister Jean Castex announced a series of restrictions to be introduced due to the ongoing spike of Covid-19 Omicron-related cases. The French PM said the current health pass for access to restaurants, cinemas and more would become a "vaccine pass" from January 15 which means that in places where the pass is required, you must prove that you are vaccinated to be able to enter and a negative covid test result will no longer be accepted.
Also, starting from Monday and for the next three weeks, all public gatherings will be limited to 2,000 people for indoor events and to 5,000 people for outdoor events and spectators at concerts will all have to be seated.These measures are in addition to the restrictions introduced in Germany where gatherings have been restricted and gyms, swimming pools, nightclubs and cinemas will be closed to the public.
The partial shutdown of Europe's 2 biggest economies could work as a double-edged sword in regard to the direction of the Euro. If we see the measures are working and the number of Coronavirus cases subside, we may see the European currency receive a boost but on the other hand, if the restrictions are prolonged, it will spell trouble for the Euro.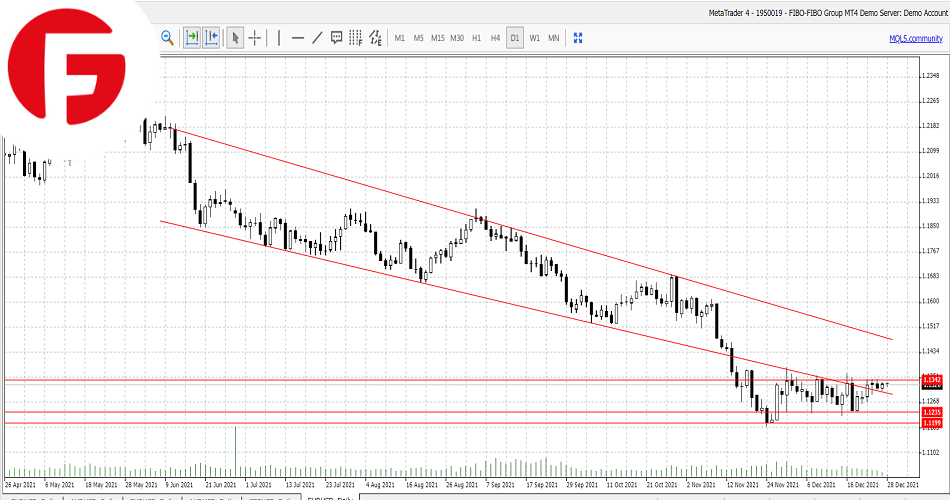 Looking on the chart, we can see that the EUR/USD currency pair has been stuck in a very tight trading range for the last 4 trading sessions between the bottom line of the downward channel that begun in June and the strong resistance level of $1.1342 which has been around since the middle of November.
As mentioned, with no important economic data due out today, or indeed for the rest of the week the Euro's fortunes and a breakout of this consolidation phase will likely be dictated by Covid19.