Published on 17.12.2021 12:48
The Euro is likely to pull back against the US dollar as we enter the Christmas holiday season after comments yesterday by European Central Bank Head Christine lagarde which came after the latest interest rate decision.
As widely, expected by the market, the ECB left interest rates on hold at record low's and it was the following speech by Lagarde that spiked investors attention with regard to rates and how long they were going to remain at 0 percent.
The ECB head clarified this by noting that the central bank has no plans to raise rates anytime soon as the fragile economic recovery is still underway and unless there is some unexpected positive economic data, higher interest rates would more than likely derail these plans.
"We are driven by data and we will be reviewing next March, next June, next September. As we receive updated projections, we will reassess... we will adjust in either direction depending on the data that we receive. But suffice at this point to indicate that under the present circumstances, as I have said before, it is very unlikely that we will raise interest rates in the year 2022. That still stands." Mrs Lagarde said.
This was the confirmation the market had been waiting for and its not good news for the Euro as the US Federal Reserve has recently signaled they plan to raise interest rates 3 times next year which is going to lead to a bigger yield difference between the greenback and Euro and investors will chase the higher returns.
Looking ahead today, the main drivers of the EUR/USD currency pair will be the release of key news from the Eurozone such as the Producer Price Index and IFO Business Climate figures from Germany which will be followed by CPI figures from the Eurozone.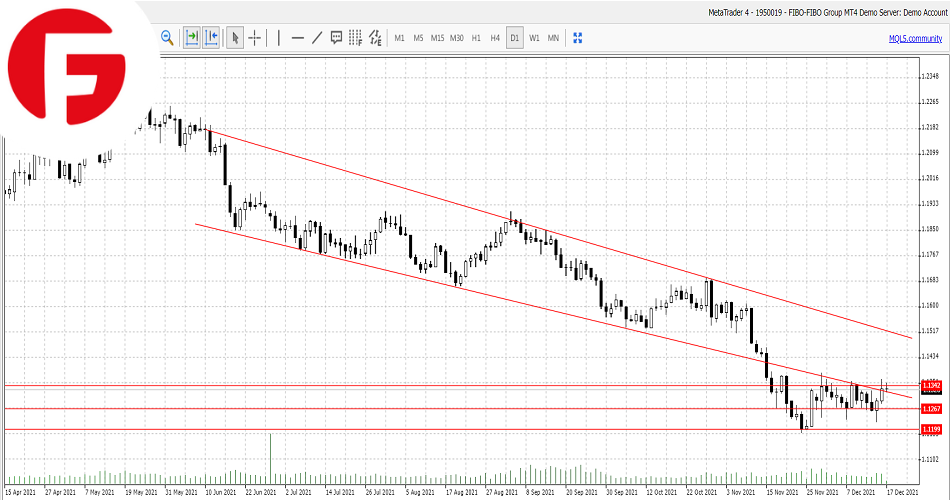 As we can see on the chart, the EUR/USD currency pair has once again faced stiff resistance at the $1.1342 level but on a good note in today's trading session the pair has managed to break up through the 2nd resistance mark which is the bottom line of the downward channel which began in June.
We may see another attempt to break the $1.1342 level if we see a good round of CPI figures from the Eurozone and disappointing numbers may see a retraction back down through the bottom line of the downward channel.