Published on 18.10.2021 12:00
The Eur/USD currency pair has nw been in a sideways trajectory for 3 straight days and for now the %1.1620 resistance level is proving pretty tough to crack and dovish comments by the ECB over the weekend regarding monetary policy will probably help contain any meaningful rally.
On Saturday, ECB President Christine Lagarde said that the central bank will continue to aid the eurozone economy by continuing to use the stimulus program introduced to help the economy as concerns over the coronavirus linger which caught the market off guard as many were expecting the ECB president to set the stage for a reduction in the pandemic help.
"Monetary policy will continue supporting the economy in order to durably stabilize inflation at our 2% inflation target over the medium term," Mrs Lagarde said in the 2021 International Monetary Fund Per Jacobsson Lecture
Lagarde also said the current inflation figure, which is a little high is likely "transitionary" and a second voice from the European Central Bank, Governing Council member Klass Knot also shrugged off the inflationary fears and the prospects of the near-term interest rate hike scenario.
The ECB introduced a 1.85 trillion euro emergency scheme to support the Eurozone during the Covid period and the program is due to end in March and so far the effort has failed to bring the European economy back to pre-covid levels.
With no economic news due out from Europe today, Investors will focus on industrial production figures from the US during the American session as the main driver of the Eur/USD currency pair.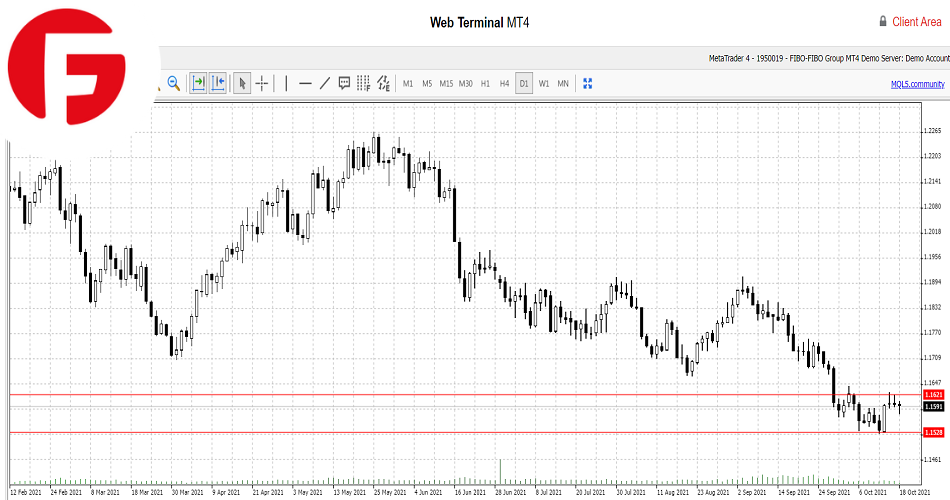 As we can see on the chart, the Euro is facing strong resistance at the $1.1621 level and as was mentioned earlier, the current dovish tone coming out from the ECB is likely to keep this mark intact and the Euro will have trouble moving higher.
With tomorrow also being a quite day on the economic calendar traders will have to wait until Wednesday for the release of Consumer Price Index figures from the Eurozone for any meaningful news to possibly boost the European currency.